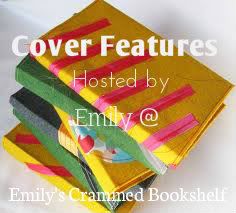 Cover Features is a meme hosted her at Emily's Crammed Bookshelf where we feature books that have the same theme in their covers.
Innocent Darkness
by Suzanne Lazear
Release Date:
August 8, 2012
Publisher:
Flux
Goodreads
/
Amazon
Wish. Love. Desire. Live.

Sixteen-year-old Noli Braddock's hoyden ways land her in an abusive reform school far from home. On mid-summer's eve she wishes to be anyplace but that dreadful school. A mysterious man from the Realm of Faerie rescues her and brings her to the Otherworld, only to reveal that she must be sacrificed, otherwise, the entire Otherworld civilization will perish.
by Tiffany Trent
Release Date: August 14, 2012
Publisher: Simon & Schuster Books for Young Readers
In an alternate London where magical creatures are preserved in a museum, two teens find themselves caught in a web of intrigue, deception, and danger.

Vespa Nyx wants nothing more than to spend the rest of her life cataloging Unnatural creatures in her father's museum, but as she gets older, the requirement to become a lady and find a husband is looming large. Syrus Reed's Tinker family has always served and revered the Unnaturals from afar, but when his family is captured to be refinery slaves, he finds that his fate may be bound up with Vespa's—and with the Unnaturals.

As the danger grows, Vespa and Syrus find themselves in a tightening web of deception and intrigue. At stake may be the fate of New London—and the world.
The Iron Thorn
by Caitlin Kittredge
Release Date:
February 22, 2011
Publisher:
Delacorte Books for Young Readers
Goodreads
/
Amazon
/
Barnes & Noble
In the city of Lovecraft, the Proctors rule and a great Engine turns below the streets, grinding any resistance to their order to dust. The necrovirus is blamed for Lovecraft's epidemic of madness, for the strange and eldritch creatures that roam the streets after dark, and for everything that the city leaders deem Heretical—born of the belief in magic and witchcraft. And for Aoife Grayson, her time is growing shorter by the day.
Aoife Grayson's family is unique, in the worst way—every one of them, including her mother and her elder brother Conrad, has gone mad on their 16th birthday. And now, a ward of the state, and one of the only female students at the School of Engines, she is trying to pretend that her fate can be different.
by Maureen Doyle McQueery
Release Date: May 1, 2012
Publisher: Amulet Books
This dark and thrilling adventure, with an unforgettable heroine, will captivate fans of steampunk, fantasy, and romance. On her 18th birthday, Lena Mattacascar decides to search for her father, who disappeared into the northern wilderness of Scree when Lena was young. Scree is inhabited by Peculiars, people whose unusual characteristics make them unacceptable to modern society. Lena wonders if her father is the source of her own extraordinary characteristics and if she, too, is Peculiar. On the train she meets a young librarian, Jimson Quiggley, who is traveling to a town on the edge of Scree to work in the home and library of the inventor Mr. Beasley. The train is stopped by men being chased by the handsome young marshal Thomas Saltre. When Saltre learns who Lena's father is, he convinces her to spy on Mr. Beasley and the strange folk who disappear into his home, Zephyr House. A daring escape in an aerocopter leads Lena into the wilds of Scree to confront her deepest fears.
What's your cover feature this week?
Which covers are you favorite?