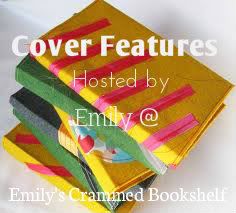 Cover Features is a meme hosted her at Emily's Crammed Bookshelf where we feature books that have the same theme in their covers.
Series: Luxe #1
Release Date: November 20, 2007
by HarperCollins
Purchase
/
Goodreads
Pretty girls in pretty dresses, partying until dawn.
Irresistible boys with sly smiles and dangerous intentions.
White lies, dark secrets, and scandalous hookups.
This is Manhattan, 1899.

Beautiful sisters Elizabeth and Diana Holland rule Manhattan's social scene. Or so it appears. When the girls discover their status among New York City's elite is far from secure, suddenly everyone - from the backstabbing socialite Penelope Hayes, to the debonair bachelor Henry Schoonmaker, to the spiteful maid Lina Broud - threatens Elizabeth's and Diana's golden future.

With the fate of the Hollands resting on her shoulders, Elizabeth must choose between family duty and true love. But when her carriage overturns near the East River, the girl whose glittering life lit up the city's gossip pages is swallowed by the rough current. As all of New York grieves, some begin to wonder whether life at the top proved too much for this ethereal beauty, or if, perhaps, someone wanted to see Manhattan's most celebrated daughter disappear....

In a world of luxury and deception, where appearance matters above everything and breaking the social code means running the risk of being ostracized forever, five teenagers lead dangerously scandalous lives. This thrilling trip to the age of innocence is anything but innocent.
Series: The Selection #1
Release Date: April 24, 2012
by HarperTeen
For thirty-five girls, the Selection is the chance of a lifetime. The opportunity to escape the life laid out for them since birth. To be swept up in a world of glittering gowns and priceless jewels. To live in the palace and compete for the heart of the gorgeous Prince Maxon.

But for America Singer, being Selected is a nightmare. It means turning her back on her secret love with Aspen, who is a caste below her. Leaving her home to enter a fierce competition for a crown she doesn't want. Living in a palace that is constantly threatened by violent rebel attacks.

Then America meets Prince Maxon. Gradually, she starts to question all the plans she's made for herself- and realizes that the life she's always dreamed of may not compare to a future she never imagined.
Series: Fallen #4
Release Date: June 12, 2012
Publisher: Delacorte Press
Purchase
/
Goodreads
The sky is dark with wings....

Like sand through an hourglass, time is running out for Luce and Daniel. To stop Lucifer from erasing the past, they must find the place where the angels fell to earth.

Dark forces are after them, and Daniel doesn't know if he can do this — live only to lose Luce again and again. Yet together they face an epic battle that will end with lifeless bodies...and angel dust. Great sacrifices are made. Hearts are destroyed.

And suddenly Luce knows what must happen. For she was meant to be with someone other than Daniel. The curse they've borne has always and only been about her — and the love she cast aside. The choice she makes now is the only one that truly matters.

In the fight for Luce, who will win?

Rapture is the astonishing conclusion to the FALLEN series. Heaven can't wait any longer.
Hello lovelies! Today I have decided to host a giveaway along with this meme. Since this particular post is featuring beatiful dresses, I decided to have a beautiful dresses giveaway. Today I will be giving away a paperback copy of The Luxe, by Anna Godbersen

~There will be one winner.
~Giveaway ends on August 30, 2012 @ 12:01 AM
~This giveaway is US/CAN
~Must be a GFC follower
~Must be 13 years or older.
~Fill out the Rafflecopter
a Rafflecopter giveaway
Please help fund future giveaways by using the affiliated links below!