{Review} Dawn Study by Maria V. Snyder
Dawn Study
by Maria V. Snyder
Series:
Study #6
Pages:
480
Release Date:
January 31, 2017
by Mira
Goodreads / Purchase
Despite the odds, Yelena and Valek have forged an irrevocable bond and a family that transcends borders. Now, when their two homelands stand on the brink of war, they must fight with magic and cunning to thwart an Ixian plot to invade Sitia.

Yelena seeks to break the hold of the insidious Theobroma that destroys a person's resistance to magical persuasion. But the Cartel is determined to keep influential citizens and Sitian diplomats in thrall and Yelena at bay. With every bounty hunter after her, Yelena is forced to make a dangerous deal.

With might and magic, Valek peels back the layers of betrayal surrounding the Commander. At its rotten core lies a powerful magician and his latest discovery. The fate of all rests upon two unlikely weapons. One may turn the tide. The other could spell the end of everything.
*REVIEW CONTAINS SPOILERS*


They are whited out so you can only read them if you highlight the text
I'm not sure what I can say about this book that I haven't already said about the five books before it, but here we go.
One thing I love about Synder's writing style is how direct it is. She doesn't waste time on long description paragraphs, she tells us quickly what we need to know about something, and then moves on to the action. She is very technical when she writes, she clearly knows about spy tricks, different fighting techniques, and war strategies. Only a genius would be able to create and then implicate such a complicated plot. There are so many moving pieces and the multiple PoVs is the only way we can see what is going on at all times. That being said, it is incredibly impressive that Snyder is able to balance them all and not repeat herself, and always have everything loop back. I am endlessly impressed with her.
Snyder has broken down walls with this series. Firstly, the setting shows two neighboring countries that are overseen in completely opposite ways. Ixia is basically a military state, everything is uniform and overseen. They ban certain people and will kill them if they are found. It seems like a dictatorship, and it seems kind of racist. In contrast, Sitia has open planes and free land, different clans that are incredibly loyal to each other. A Sitian Council oversees the country, which means democracy rules. I can tell you right now which country I would prefer, but it's interesting that these places just were, there was no negotiation about which was better, we were allowed to find the imperfections ourselves. As our main character we have a woman of color who is also an abuse and rape survivor and has PTSD. She didn't have an easy life, but she overcame her past and literally killed her demons. She refused to be taken advantage of again, and she spent hours and hours learning to defend herself. She was always underestimated because she was a woman – the book even mentioned how she wasn't searched as thoroughly for weapons as her male companions – and she always made them pay for thinking that way. She was incredibly smart and resourceful, and literally never stopped. She is also incredibly protective and caring, self-sacrificing and loyal. As her life partner she has a man who was driven by grief and hatred because of a terrible event that happened when he was young and also suffered from PTSD. He was so effected that he closed himself off to the world, to people, [
Spoiler:
and to his incredible magical powers.
] Like Yelena, he refused to be the victim and used his pain to seek revenge (which, it should be noted, is not healthy). He is the best in the world, but he worked incredibly hard to get there, and it was because of his trauma that he became so. [
Spoiler:
Eventually he is taught to open up, and he eventually lets love into his life again, living a happy life despite his past.
] Then we have the Power Twins. The relationship Ari, Janco, and Yelena share is unlike any I have ever seen on paper. They love, loyalty, and dedication for each other and would do anything for each other, and it shows that people can find a family in complete strangers. I haven't seen that kind of positive platonic bond ever in a series. The fact that they brought even more people into their family and are just as loyal to them is also groundbreaking. Not to mention, the Commander – who organized an overtaking of the corrupt king – is transgender, and encourages women to join his army, and promotes people based on their ability, not their gender. We have Maren, Onora, Irys, all these incredibly powerful and strong women who are in positions of power, and it's truly inspiring. Also, I can't think of another book where children were so involved in the success of a mission. The adults treated the children like adults, they showed them respect and used their skills. They didn't question their maturity, they questioned whether or not they could stay safe. They never questioned their abilities, only what others could do to them. I can't think of another series that has such positive and inspiring messages as this.
The fact that Snyder was able to find room within the already incredibly complicated world she has created to find a solution to this new problem is very impressive. The ending seemed kind of anti-climactic and I was disappointed at first, but honestly, it makes logical sense and also, I just wanted my babies safe and happy, and it was the right way to end it. [
Spoiler:
The Commander didn't attack because he knew the Sitians knew about the Harmon tree and would find an antidote quickly, and since that was the only advantage he had over them that would prevent a bloody battle, he decided to step back
.] It makes sense, it really does. And god, that ending. [
Spoiler:
I cannot explain how seeing Valek with his child made me feel. And Yelena, finally a mother.
] The ending felt so right, because it showed Valek and Yelena happy and safe and together, which they haven't been in so long, and I'm so glad I got to see them that way. Also, I smell a spin-off,
[Spoiler: cuz we all know Liana is going to be a force to be reckoned with. Yelena and Valek will be such amazing parents, but those two stubborn suckers are going to meet their match with Liana. She has the combined force of both their stubbornness, Valek and Yelena will never win an argument against her.
] And that makes me really happy.
This series is a goldmine, so complex and inspiring, so thoughtprovoking and engaging, and so fucking underrated. I will miss being in this world, but I'm so glad I got to experience. Snyder, you own my soul.
5 stars


Other Books by Maria V. Snyder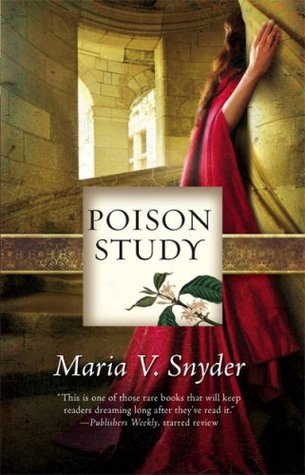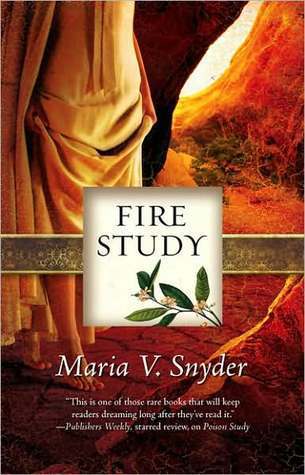 Poison Study (Study #1) -
Goodreads
/
Purchase
Magic Study (Study #2) -
Goodreads
/
Purchase
/
Review
Fire Study (Study #3) -
Goodreads
/
Purchase
/
Review
Shadow Study (Study #4) -
Goodreads
/
Purchase
/ Review
Night Study (Study #5) -
Goodreads
/
Purchase
/ Review
Touch of Power (Healer #1) -
Goodreads
/
Purchase
/
Review
Scent of Magic (Healer #2) -
Goodreads
/
Purchase
/
Review
Taste of Darkness (Healer #3) -
Goodreads
/
Purchase
/
Review
Storm Glass (Glass #1) -
Goodreads
/
Purchase
/
Review
Sea Glass (Glass #2) -
Goodreads
/
Purchase
Spy Glass (Glass #3) -
Goodreads
/
Purchase
Inside (Insider #1-2) -
Goodreads
/
Purchase
/
Review