{Review} Allegiant by Veronica Roth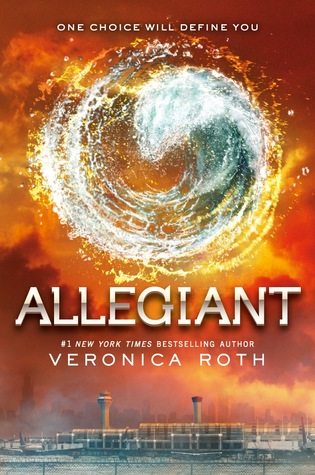 Allegiant
by Veronica Roth
Series:
Divergent #3
Pages:
526
Release Date:
October 22, 2013
by Katherine Tegen Books (an imprint of Harper)
Goodreads
/
Purchase
The faction-based society that Tris Prior once believed in is shattered—fractured by violence and power struggles and scarred by loss and betrayal. So when offered a chance to explore the world past the limits she's known, Tris is ready. Perhaps beyond the fence, she and Tobias will find a simple new life together, free from complicated lies, tangled loyalties, and painful memories.

But Tris's new reality is even more alarming than the one she left behind. Old discoveries are quickly rendered meaningless. Explosive new truths change the hearts of those she loves. And once again, Tris must battle to comprehend the complexities of human nature—and of herself—while facing impossible choices about courage, allegiance, sacrifice, and love.

Told from a riveting dual perspective, Allegiant, by #1 New York Times best-selling author Veronica Roth, brings the Divergent series to a powerful conclusion while revealing the secrets of the dystopian world that has captivated millions of readers in Divergent and Insurgent.
*REVIEW CONTAINS SPOILERS*


They are whited out so you can only read them if you highlight the text
*Also I read this back in January, I am not COMPLETELY late on the bandwagon haha*
*There's a Catching Fire/Mockingjay spoiler which is marked*
I really don't know where to start with this review.

This series has been a roller-coaster of hating then loving then hating again.
It's a very unique series and well written, I just didn't LOVE it.
Basically this book was not as good as the other books.
It was so boring!
The two first books were so fast paced and exciting and every single second something was happening.
I couldn't stop reading.
With this book I had to kind of force myself to read it because it was SO. SLOW.
There was a lot of world-building with action sprinkled sparsely in the story line.
The world building was very well done, however.
This book was complex, interesting, but slow-paced...but when it came time for the action to come Roth brought it.
Of course I am talking about the ending.
The staging for the ending was very well done, if not a bit confusing.
One thing that Roth definitely improved on that I had noticed was lacking in the other books was how she didn't describe scenes very well.
From her descriptions I couldn't imagine the scene.
If it was a fight scene I would be so confused because she didn't write it very well.
But in this book she did such a good job with describing scenes that I was able to imagine them.
I really wasn't a fan of the 2 POVs though.
I kept on getting confused about which POV we were seeing the story from because both Tris and Four are very similar with their POV.
They were both in the same place all the time so there really wasn't a different perspective with each POV.
Also Four's POV was much more boring than Tris's.
The ending was crazy – and sad.
Yes, I cried.
While I didn't like how it ended I think that it was completely necessary.
[SPOILER:
I just really wish it wasn't Tris who died.

Four would have been fine.

It was very hard for me to read about her dying.

She had been through so much during this series and she had developed so much and for her to just die...that's not okay!

It was so sad!

Why couldn't Four have died?!

That would have been fine because I hate him.

But please, keep Tris.

She had so much more to live for.

She was reconciling with Caleb and she had Christina and Cara.

She had a reason to stay.
]
Also, I can't tell,[
SPOILER:
but did Tris and Four have sex or not?

I know there was that one scene where they went a bit further than usual but there was nothing to say whether or not they actually did It.

I really wish Roth would have explained that a bit better.

I know coming into the book the ending because I got spoiled, so I was really expecting them to have sex before they can no longer be together.

But then again it kind of would feel wrong because at the time they had been fighting for like a book and a half and sex right after is just wrong.

If Roth had just had them make up in the beginning of the book then wrote a sex scene before Tris and Four separated that would have been perfect.
Update: Roth released a statement that said she wanted the reader to decide if they had sex or not. I don't think they did. ]

[SPOILER:
Also I thought it was completely unnecessary to kill Uriah.

At the beginning of this series I congratulated Roth for having the nerve to kill of characters, but by the end I was so sick of seeing all the characters I loved dying.

It just felt like too much.

Edward and Tori and Uriah (and Tris), who have all been there since the beginning, die.

There were just so many people killed in this series.

Uriah was the first person to befriend Tris when this whole story started and the fact that he dies is not okay.
]
There's a difference between a) being sad someone died and having feels and b) being completely and cruelly emotionally destroyed.
Which is what happened with this book.
[SPOILER:
The aftermath of Tris dying was really hard to read about.

When Christina and Four hear about what happened was really emotional, and then Uriah dying.

The epilogue was really boring though.

I know that Roth has to explain what is going on with this new world but seriously, our favorite character just died and Four is going to scatter her ashes – we want to read about that.

Talk about world building later!

But I do think that that zip line scene where Four spreads Tris' ashes was just perfect.

He faced his fears and he did the same thing Tris did and that should make him feel closer to her.
]
[SPOILER (catching fire/mockingjay):
That part where Tris and Four say goodbye when Tris is going to release the memory serum and Four is going back into Chicago and they say they love each other reminded me of Catching Fire when Katniss leaves Peeta under the lightning tree and then Peeta gets hijacked...only in this book Four never sees Tris living again and Katniss and Peeta get married. *cries*
]
By the end of this series I absolutely loved Tris.
Yep, I respected her
[SPOILER:
just in time for her to die.
]
Tris was a completely different character than in the first book.
In this book she was strong, selfless, and very forgiving.
She was only 16 and already she had been through so much.
She was strong without Four saying every 5 pages "OMG Tris you are, like, so strong you have to pretend to be weak".
Tris was strong without all that.
The thing that really sold Tris to me as a great person was when
[SPOILER:
she sacrificed herself for Caleb.
]
She just grew so much over the course of this series into someone who had made mistakes but dealt with them and became a vulnerable yet strong person.
I hate Four.
I've hated him since the first book, but then I was imagining him as Theo James so that made it better.
But I hated Four in this book.
He was just so annoying, accusing Tris of things while he was doing the very things he was yelling at Tris about.
Tris: You shouldn't join this rebellion it doesn't feel right
Four: OMG Tris you're so jealous I can do what I want yolo
He still isn't developed at all, and yes, I cried at the end of this book,
[SPOILER:
but not because Four was sad, but because I was sad Tris was gone.
]
He was just so annoying and winey and when he finds out [
SPOILER:
he's not Divergent
] his reaction is so immature.
I don't feel bad for him at all.
I think since this is the last book it's time to talk about the supporting characters.
There were a ton but I'm going to talk about Christina, Uriah, Caleb, Peter, and Cara.
Uriah is my favorite, Christina second.
Uriah was with Tris from practically the beginning and they grew into such good friends
[SPOILER:
(and part of the reason I was crying in the end was because Uriah died too
).
]
He was a very good supporting character, as was Christina.
The saga between Tris and Christina is a long one, but in the end they were such good friends, and Christina was really strong, dependable character.
The same goes for Cara- her and Tris have a history but in the end they stick together.
Caleb and Peter...I have to say I really respect Caleb for his would-be sacrifice at the end of the book.
He really is a good character, even if he's not the best person.
Peter is the same – a good character, just not a good person.
He added a lot to the story.
All in all, this was definitely not the best series I've ever read, but the characters and world are very interesting and there's something about this series that demands to be read.
I liked it at times, I hated it other times, but in the end, I'm glad I read it.